You're currently on: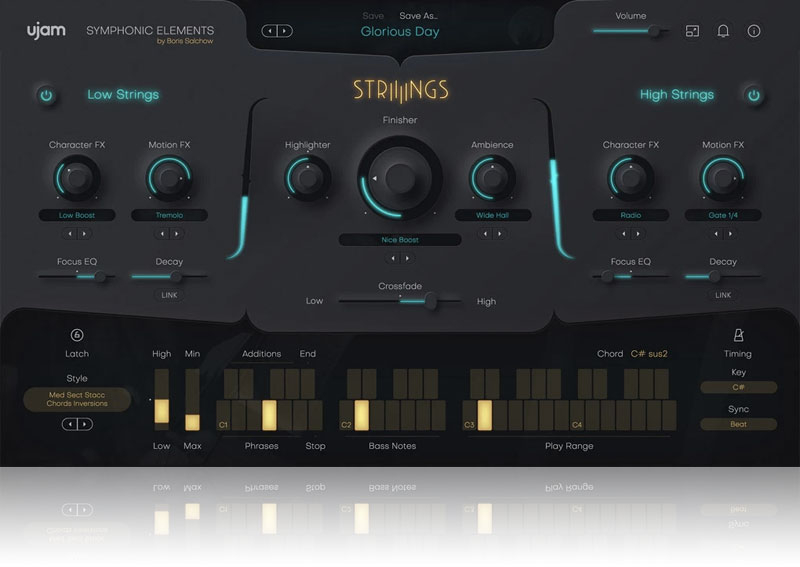 Evoke Emotions
Using modern string ensemble textures, with a sound design twist.
The power of movement
Few things can bring about the same sense of poetry and expression as a beautiful string texture. Strings elevate the emotion of a song… and that's what this plug-in is all about!
The goods
World-class string section phrases, no string arrangement skills required.
Brand-new creative performance and sound design engine by ujam.
60 playing styles, more than 200 sound designer presets.
Recorded at Hans Zimmer's Remote Control Studios, produced by Boris Salchow.
Million-dollar sound
ujam is happy to count Hans Zimmer—one of the world's great film composers—as one of its co-founders. Hans generously gave us access to his legendary string recordings, amassed over decades, for use in STRIIIINGS.
Cream of the crop
Recorded on one of the world's leading scoring stages, played and recorded by the world's best.
Accessible for anyone
No solo instruments here, and no control over intricate details like bowing techniques. And that's a good thing, because it means you don't have to think about it. STRIIIINGS will take care of the details, so you can focus on your music!
Extend your color palette
STRIIIINGS will always play perfectly voiced, exclusively engineered sounds so you can produce music with the same focus and flow that is the signature of every ujam instrument.
Based on Hans Zimmer's remarkable and complex string library, we created a tool that's easily playable and failproof!
– Boris Salchow, Film & Game Composer
(Sunset Overdrive, Dead Rising)
Versatile
Whether it's the driving force in a blockbuster score, the punch in a hip-hop track or the uplifting bridge in a pop song, with STRIIIINGS, you'll have the ability to bring your creativity to life.
Supernatural
Customizable built-in sound design tools allow for modern atmospheres and textures that are entirely your own!
Born from art & technology
Ready to follow your musical lead through proprietary ujam technology.
Highlight phrases
The Highlighter knob is a multi-mode 24dB synthesizer filter specifically optimized for creating juicy risers and intros. Turn the knob left for a low pass filter, turn right for a resonant high pass.
Deep PreSonus Studio One integration
Descriptions of styles and phrases are displayed on the piano roll to help you find the right ones for your track.
The chord track feature in Studio One automatically charts the chords you play and modifies the MIDI notes for you.
The Hard Facts
Operating Systems
Windows 7 or later
OS X 10.11 / macOS 10.12 or later


You may run it on earlier versions but we don't support them.

Minimum Requirements
4 GB of RAM
4.7 GB of Disk Space
1280x768px Display, Internet Connection.
If you want to move your .blob file to an external drive, we recommend the use of a SSD to prevent dropouts.
Plugin Formats

VST, AU 2, and AAX.




AU 2 version only compatible with Logic Pro X and newer.
| | |
| --- | --- |
| Delivery Format | Downloadable Installer File |
| Authorization | E-mail and Password Within the Plug-in |
| Supported Standards | MIDI |
You may also be interested in: