You're currently on: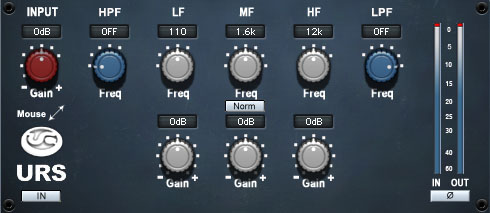 Digitally recreates the sound of of Neve's 1084 vintage Five Band Equalizer (3 bands plus HP/LP Filters).
The URS N series equalizer is very broad banded and musical. It is a must have tool for recording and sweetening drums and bass with any software compatible with TDM, RTAS, AudioSuite, Audio Units and VST.
It has a hi-pass filter with four frequencies- 45Hz, 70Hz, 160Hz and 360Hz. It has a lo-pass filter with five frequencies- 6kHz, 8kHz, 10kHz, 14kHz and 18kHz. The low end of this equalizer is so tight that you can boost 220Hz and not muddy up the sound. The mid band has six frequencies- 350Hz, 700Hz, 1.6kHz, 3.2kHz, 4.8kHz and 7.2kHz. The "Hi-Q" button on the mid band selects a narrower bandwidth. The high band is shelving and is selectable with three frequencies- 10kHz, 12kHz and 16kHz. It is smooth and silky and a little goes a long way.