You're currently on:
Download License! Email Delivery!
Phase Distortion Suite
For us at UVI the CZ series from Casio is a longstanding favorite. When we approached the Cameo project we wanted to do something special that not only highlights the amazing sounds of these classic synths but that offers something new to our fellow CZ aficionados.
We began with a number of fully-serviced classics, including the Casio CZ1, CZ101, CZ1000, CZ2300S, CZ3000 and CZ5000, and ended up with 3 instruments—each with a different approach, unique sonic character and inspiration.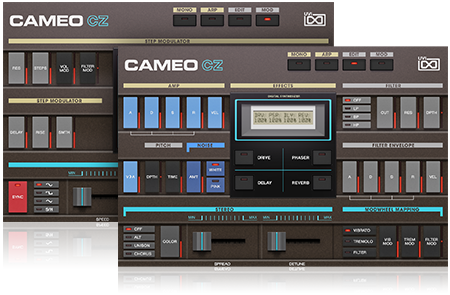 Cameo CZ incorporates a huge library of custom patches designed on the original hardware. An exposition of the rich diversity of timbres possible through phase distortion synthesis, sounds range from complex digital tones to thick and remarkably analog-sounding basses and leads. Cameo CZ provides an incredibly deep sample library, including variations with and without the unique Chorus effect of the flagship CZ1.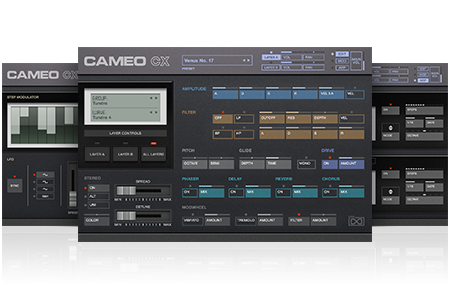 Cameo CX is a dual-layer instrument with a large catalog of sounds and raw waveforms captured directly from the hardware instruments. A hybrid methodology implores these raw waves as the basis for sound design within a modern digital environment, resulting in a wide variety of tones covering everything from vintage-inspired to digital bliss. Explore the factory presets or design your own sounds from scratch with the raw waveforms.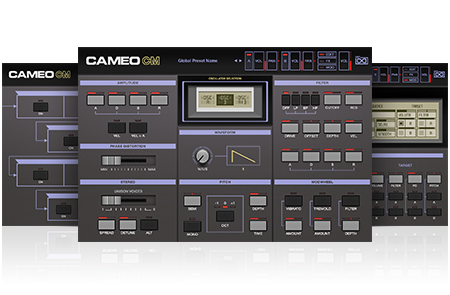 Cameo CM is our own modern inspiration of the phase distortion sound. Another dual-layer instrument, but this time utilizing the Wavetable oscillator and DSP shaping tools from Falcon. Cameo CM isn't sample-based in the sense of the CZ and CX, rather it's aimed at achieving wholly new and unique sounds using the capable architecture of the UVI Engine. Explore a range of high-quality presets or design your own sounds with a full compliment of synthesis tools and built-in effects.
Whether you're a fan of classic '80s synth sounds, a phase distortion buff, or just looking to expand your palette of go-to sounds, Cameo delivers a treasure of new and delightful sounds with the unmistakable character of some of our favorite synths.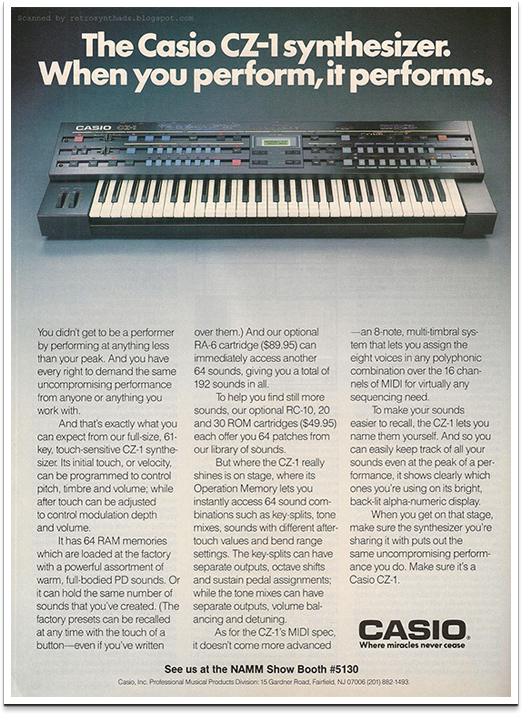 Simple, Flexible Authorization
License on your computer or iLok key, use your software on up to 3 devices concurrently
General Information
Supported Formats
Falcon: Audio Units, AAX, VST, Stand-alone
UVI Workstation: Audio Units, AAX, VST, Stand-alone
Sparkverb & Relayer: Audio Units, AAX, VST

Supported Operating Systems
Mac OS X 10.7 and higher (32 and 64-bit) - (OS X 10.11 El Capitan supported)
Windows 7 and higher (32 and 64-bit) - (Windows 10 supported)
Important note: Falcon is 64-bit only

Requirements
Hard Drive: 7 200 rpm recommended or Solid State Drive (SSD)
4GB RAM (8GB+ highly recommended)
FREE iLok account - not necessarily an iLok dongle, just a free account
Internet connection for the license activation
Falcon or UVI Workstation to run libraries

Tested and Certified in :
Digital Performer 8+, Pro Tools 11+, Logic 9+, Cubase 7+, Nuendo 6+, Ableton Live 8+, Studio One 2, Garage Band 6, Maschine 1 & 2, Tracktion 4+, Vienna Ensemble 5, Reaper 4, Sonar X3, Main Stage 3, MuLab 5.5+
Summary
Size : 9.16GB (FLAC lossless encoding, was 14.73GB in WAV)
Collection : Phase Distortion Suite
Content : 3 Instruments, 478 Presets, 27,874 Samples
Sample Resolution : 44.1 kHz. Recording at 88.2 kHz
You may also be interested in: