MODULATORS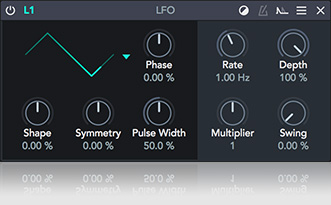 LFO
A feature-complete LFO, including variable shape, phase, symmetry and pulse width. The Multiplier control supports advanced metrics (5, 7, 11, 13, 15 etc.), and Swing provides up to 200% of the conventional range.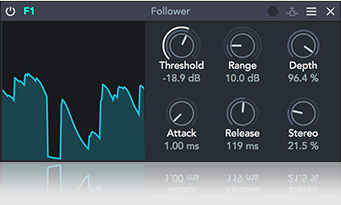 Follower
A featured envelope follower, allows the creation of any sort of dynamic effect in Shade, from classic Dynamic EQ, to multiband compression effects and beyond. Can be driven by input, sidechain, or the spectral band of individual filters within Shade.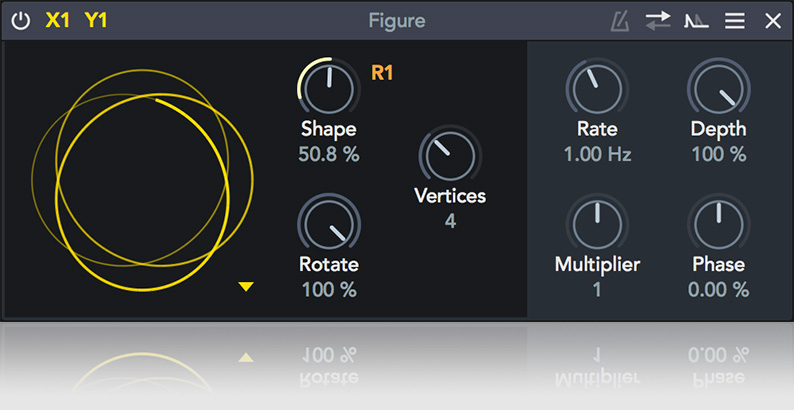 Figure
A two-dimensional LFO, Figure allows you to create continuous morphing between simple circular forms and complex, spirograph-like shapes with up to 8 vertices, and support for rotation. Additional features include Direction, Sync/Free toggle, variable Speed and Phase, and Trigger/Retrigger modes.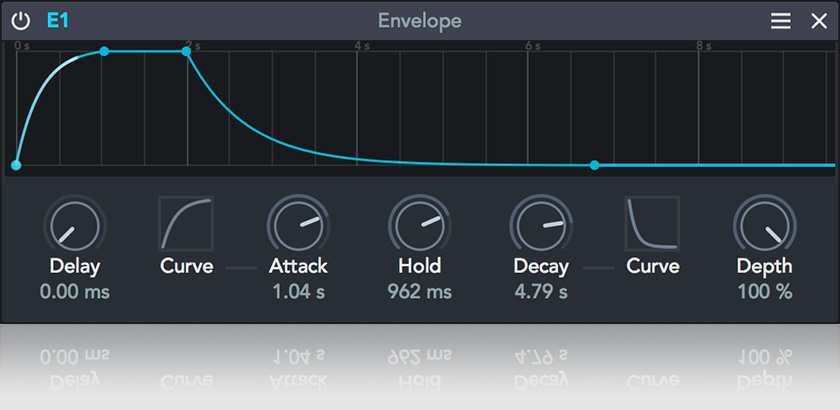 Envelope
A classic DAHD envelope with variable curve shapes. Triggering is set through the global trigger mode menu, and can be made by host sync interval, audio threshold, or MIDI note.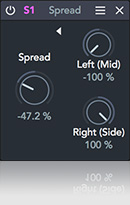 Spread (Multichannel)
The Spread modulator allows you to create channel-specific variation for any parameter (on filters or modulators), in L/R, M/S, or Surround. Simply expand the panel and adjust relative values for each channel as desired. Use it to create ultra-wide fx, or any type of creative multichannel filtering effect you can think of.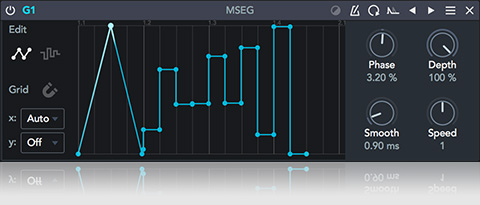 MSEG
For absolute control, the MSEG (multi-step envelope generator) provides a DAW-like automation lane with both stepped and linear drawing modes with easing. A customizable grid with grid-snap allows for precise point placement. Click-drag multiselection with bounding box transform allows for easy editing. Additional features include Loop toggle, Trigger/Retrigger modes, Sync/Free toggle, variable Speed and Phase, and Smooth interpolation.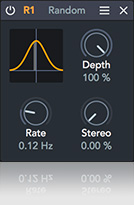 Random
Add jitter to any parameter to impart variability, movement, and added interest. Can operate in Mono or Stereo, for added width.
Macro
The Macro modulator lets you easily control many things from one place. Map it to as many parameters as you like, and assign each their own depth as needed.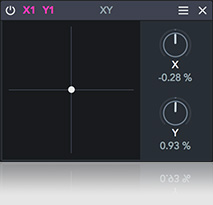 X / Y
A classic two-dimensional modulator. Perfect for morphing between parameter settings on filters or other modulators. Control it with an external joystick via Macros.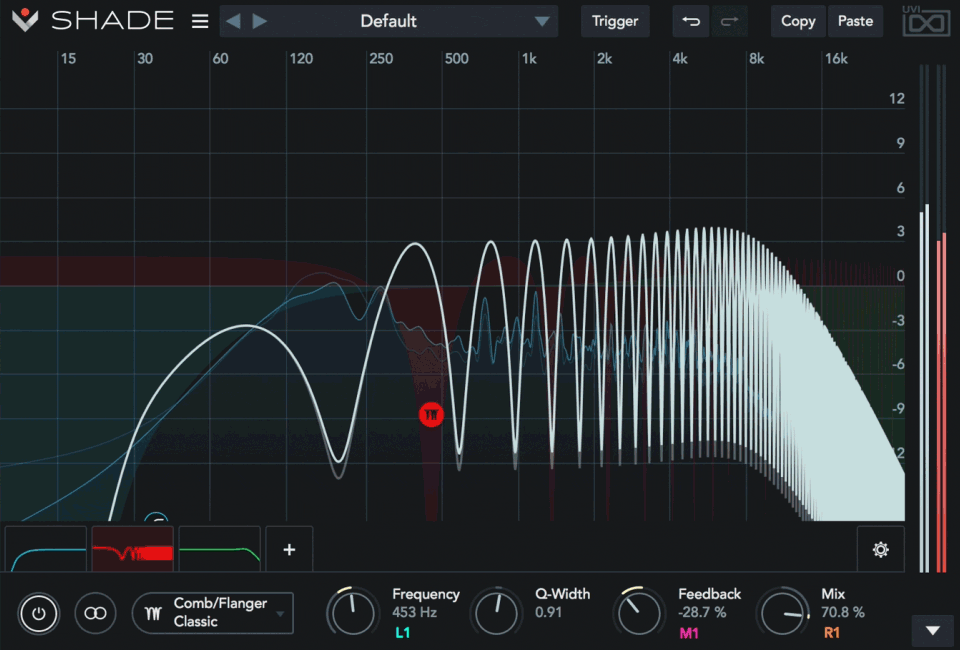 EXTREME PHASER / FLANGER
Shade is an extremely capable phaser and flanger. Combine any of the classic or more exotic phaser and flanger filter shapes with Shade's modulation system, LFO, MSEG, Figure, Spread, and animate to taste. Roll your own or check out the fantastic collection of phaser and flanger presets for instant gratification.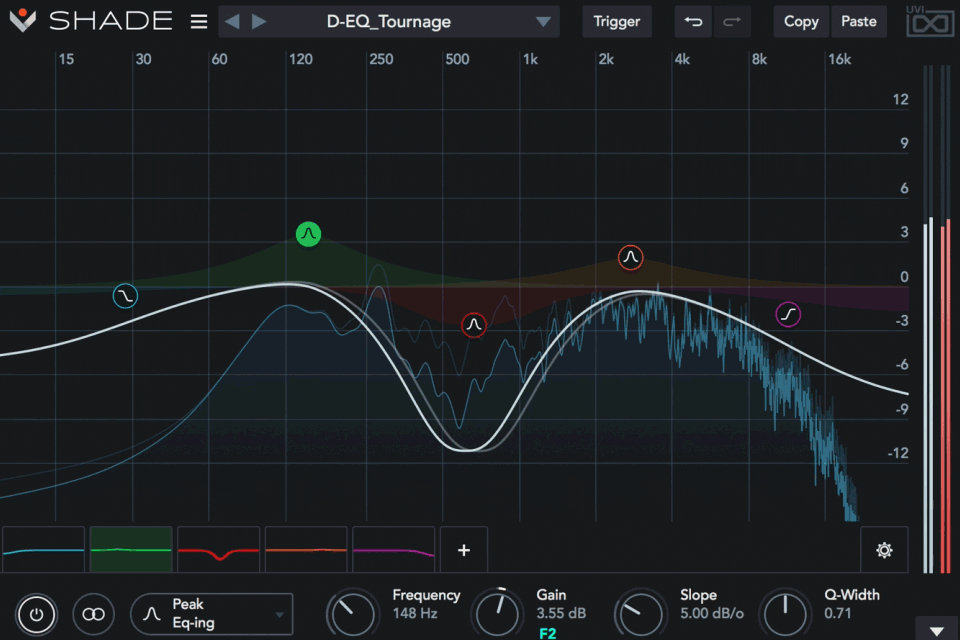 LIMITLESS DYNAMIC EFFECTS
Right-click the gain of any shelf or peak filter in Shade to add a Follower, and you've got instant dynamic EQ. Unlike most dynamic EQs, however, any parameter in Shade can be dynamic. Pair that with a capable cross-modulation system and ability to drive envelope followers based on individual filters' spectral content, and you've got massive creative potential.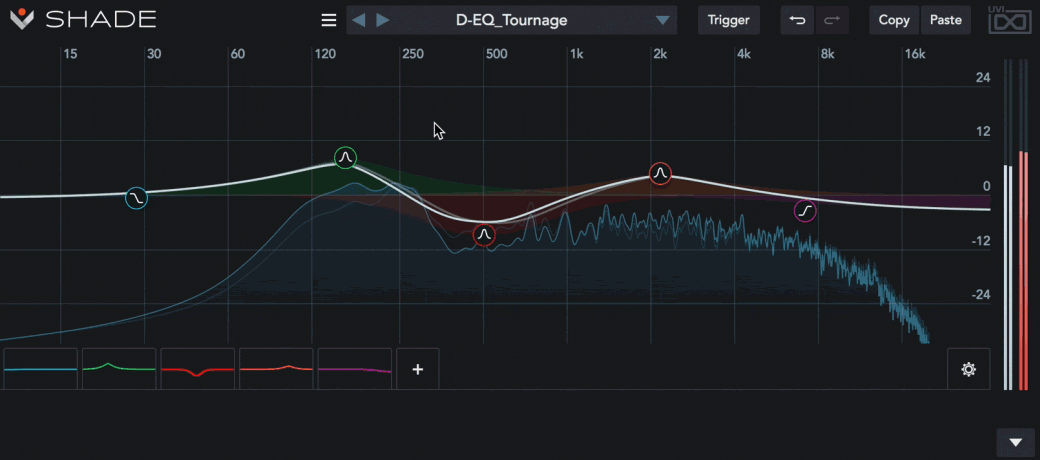 HIGH QUALITY, ZERO LATENCY
Most of the filters within Shade have been digitized using advanced techniques to achieve extremely accurate analog magnitude matching across the high-frequency spectrum. This is done without any additional processing cost, and with zero latency, making Shade both extremely accurate and CPU efficient.
MULTISELECTION
Do more with less. Shade supports editing of multiselections in the graph area, allowing you to easily modify or add modulations to shared parameters of multiple filters with one click. Don't forget, multiselection works just as well in MSEG and Envelope modulators.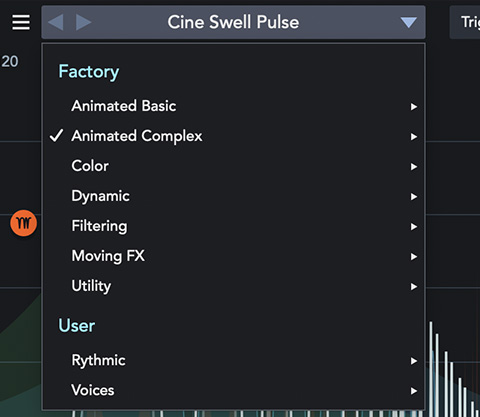 PRESETS
Shade's preset system, both globally and per module, are all written in plain-text. This allows you to store and share configurations with ease using copy/paste/load/save commands available in both main, and module menus.
REFINED WORKFLOW
Being a semi-modular system with nearly unlimited possible configurations it was important for us to make Shade as immediate and as easy to use as possible. To that end we made a concerted effort to mitigate complexity in the UI, displaying only what's pertinent to the task at hand so that you can stay focused and in the zone no matter how deep you dive.
A MODERN TAKE ON A CLASSIC
A go-to mix tool, versatile creative effect, and a no reservations audio mangler, Shade is a modern, efficient, and highly-capable processor limited only by your imagination. Throw Shade on your track and don't look back!
SPECS
SYSTEM REQUIREMENTS
200 MB of disk space (Mac Installer: 115 MB ; Windows Installer: 167 MB)
4 GB RAM
Supported Operating Systems:
- Mac OS X 10.9 Mavericks to macOS 10.15 Catalina (64-bit)
- Windows 8 to Windows 10 (64-bit)
iLok
account (free, dongle not required)
Internet connection for the license activation
COMPATIBILITY
| | |
| --- | --- |
| Supported Formats: | Audio Unit, AAX, VST |
| Tested and Certified in: | Digital Performer 8+, Pro Tools 11+, Logic 9+, Cubase 7+, Nuendo 6+, Ableton Live 8+, Studio One 2+, Garage Band 6+, Maschine 1+, Tracktion 4+, Vienna Ensemble Pro 5+, Reaper 4+, Sonar X3+, MainStage 3, MuLab 5.5+, FL Studio, Bitwig 1+, Reason 9.5+ |