You're currently on:
Download License! Email Delivery!
INSPIRATION

UVX80 is based on a well known Japanese manufacturer's first analog polyphonic synth, a digitally-controlled 2+1 oscillator, 8-voice, 61-key instrument launched in 1984 with a gorgeous and futuristic-looking visual stance. Technically comparable to the JX-3P, this synth boasted a more robust architecture with 2 extra voices, a sub-oscillator and real pulse-width modulation. Despite its technical advantages and profound sonic capability it would find a similar fate, never managing great commercial success but attracting a cult following that's present even today. While not as difficult to edit as the 3P, this synth shared the lack of explicit controls found on the wildly popular but more basic Juno-106 that launched the same year. A truly progressive design for the time, you'd never know it was analog by looking at it, but there's no mistaking the warm and punchy sound this keyboard produces - it's a legitimate analog beast, and somewhat of a sleeper gem from the era.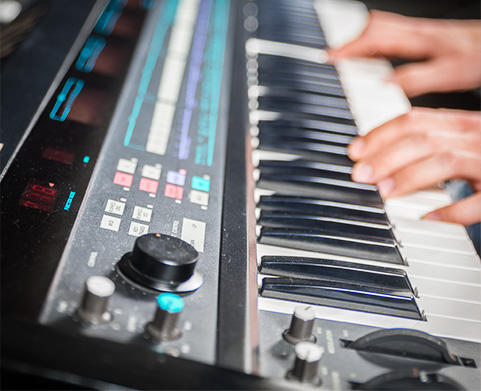 Due to the limited production of the original machines very few are left today, with even fewer in working condition. Our UVI Japan office was able to secure a pristine model, making sure it was calibrated to factory specs before passing to our sound design team. Once here in Paris, we pushed it to its limits, designing tones from classic to modern and letting the unique character of this synth shine. Recordings we made using the highest-quality processors and converters available, resulting in a fantastically rich and vivid library to serve as the basis for UVX80. Once loaded into the UVI Engine our sound designers further polished these patches creating the hybrid instrument we proudly present to you today. Now you can explore the distinct and powerful analog sound of this vintage '80s synth with all the conveniences and flexibility of a modern studio instrument.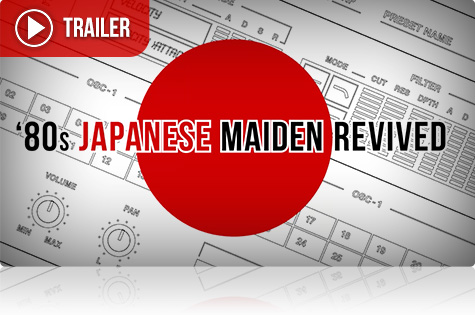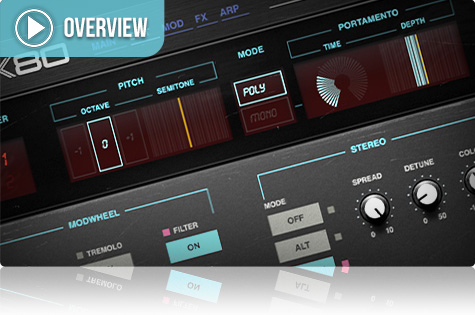 INSTRUMENT

UVX80 delivers on the original synth and adds a modern refinement, expertly presenting its distinct timbres and ample sound design capabilities from warm basses, shredding leads, atmospheric textures and other-worldly sound effects to crisp bells and charactered strings. Easily browse the preset sounds by type, layer them to create rich evolving textures, or dive in and edit them to create your own sounds.
Inspired by the original hardware, UVX80's UI reflects an '80s futurism aesthetic while providing a clear and easy-to-program instrument with familiar controls. A 2-layer architecture provides 28 sounds for oscillator 1 and 111 sounds on oscillator 2, each with it's own multimode filter, ADSR envelopes, pitch, portamento, stereo section, arpeggiator and modwheel assignments. A versatile LFO and 16-step modulator provide quick control over the amplitude and filter and a final effect section tops it off with high-quality drive, chorus, phaser, delay and reverb.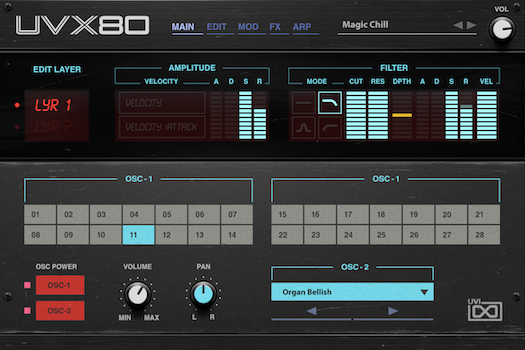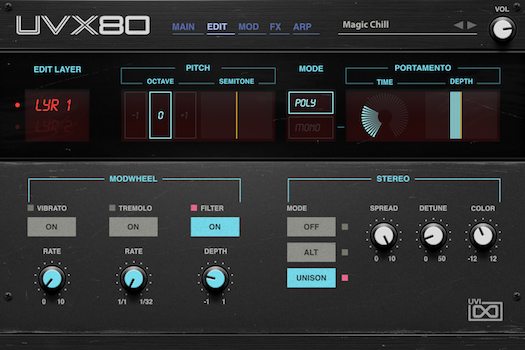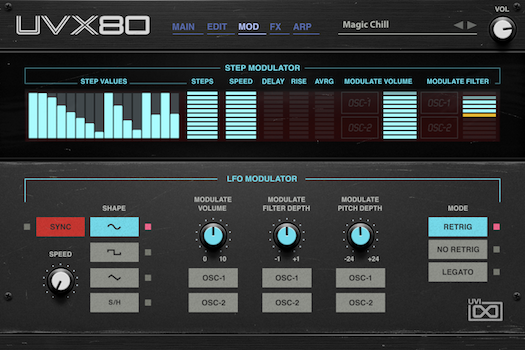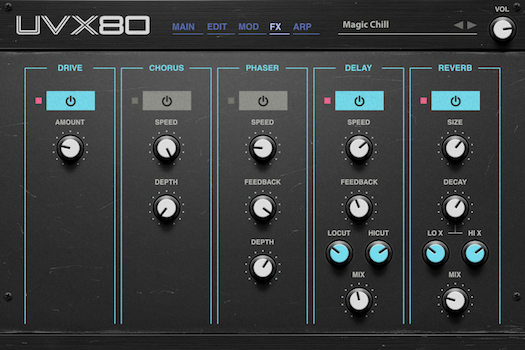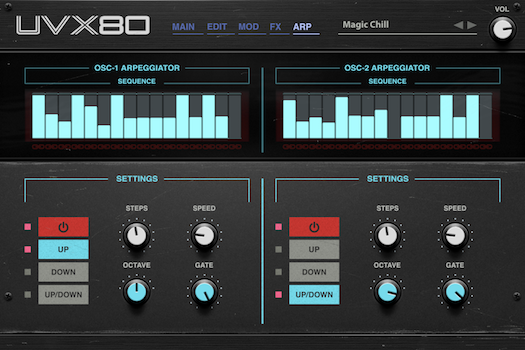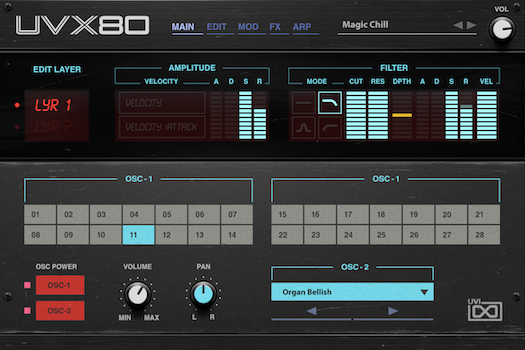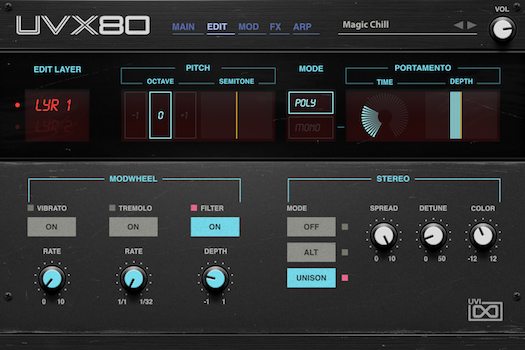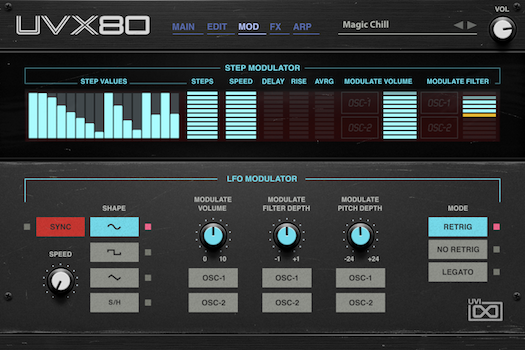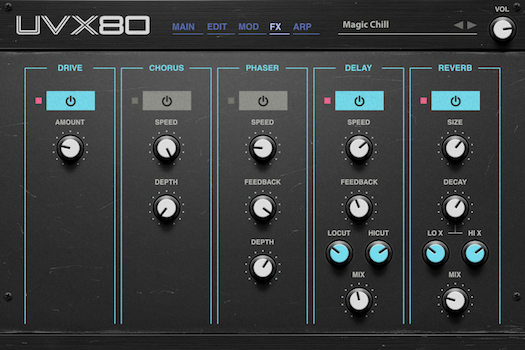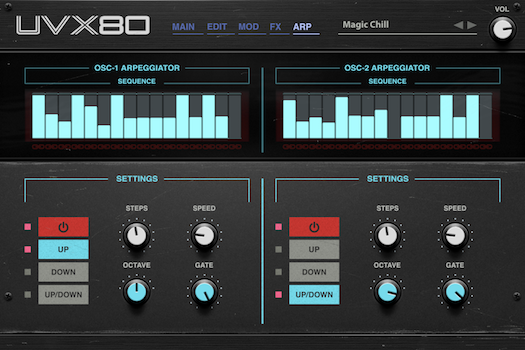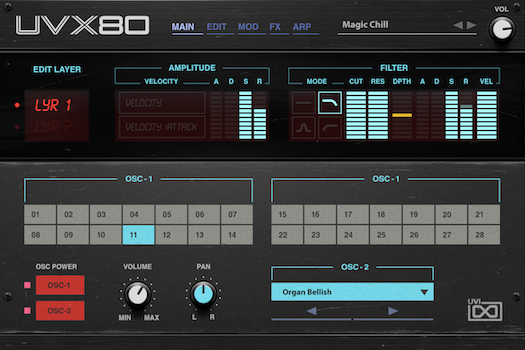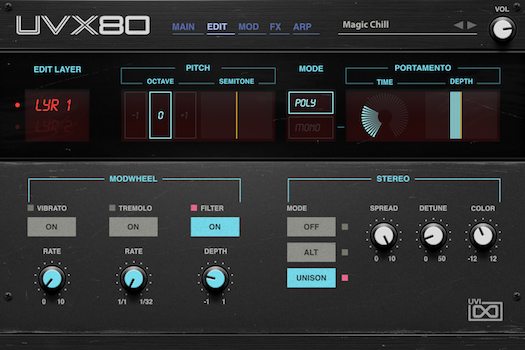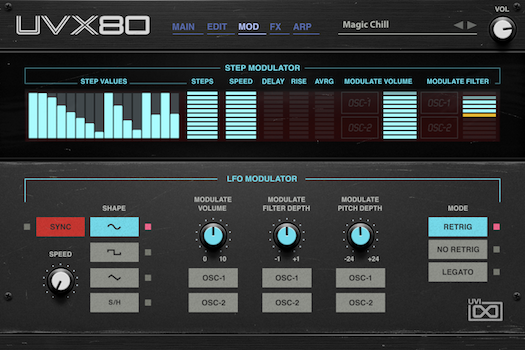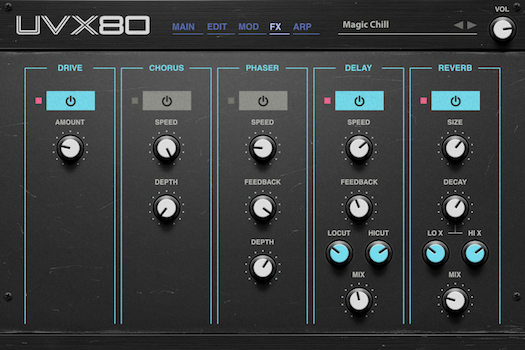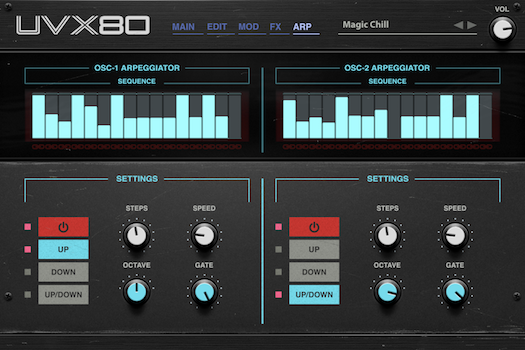 UVX80 delivers a versatile and electrifying '80s analog sound, exploring the fascinating and profound beginnings of a Japanese powerhouse brand.
SPECS
WHAT YOU GET
| | |
| --- | --- |
| Size: | 2.04 GB (FLAC lossless encoding, was 3.95 GB in WAV) |
| Content: | 6,771 Samples, 252 Presets |
| Sample Resolution: | 44.1 kHz. Recording at 88.2 kHz. |
| License: | 3 activations per license on any combination of computer hard drive or iLok dongle |
SYSTEM REQUIREMENTS
Runs in UVI Workstation version 2.6.11+, and Falcon version 1.3.1+
iLok account (free, dongle not required)
Internet connection for the license activation
Supported Operating Systems:
- Mac OS X 10.7 or higher (32 and 64-bit)
- Windows 7 or higher (32 and 64-bit)
3GB of disk space
Hard Drive: 7,200 rpm recommended or Solid State Drive (SSD)
4GB RAM (8 GB+ highly recommended for large UVI Soundbanks)
COMPATIBILITY
| | |
| --- | --- |
| Supported Formats: | Audio Units, AAX, VST, Stand-alone |
| Tested and Certified in: | Digital Performer 8+, Pro Tools 11+, Logic 9+, Cubase 7+, Nuendo 6+, Ableton Live 8+, Studio One 2+, Garage Band 6, Maschine 1 & 2, Tracktion 4+, Vienna Ensemble 5, Reaper 4+, Sonar X3, Main Stage 3, MuLab 5.5+, FL Studio, Bitwig 1+, Reason 9+ |
You may also be interested in: