You're currently on: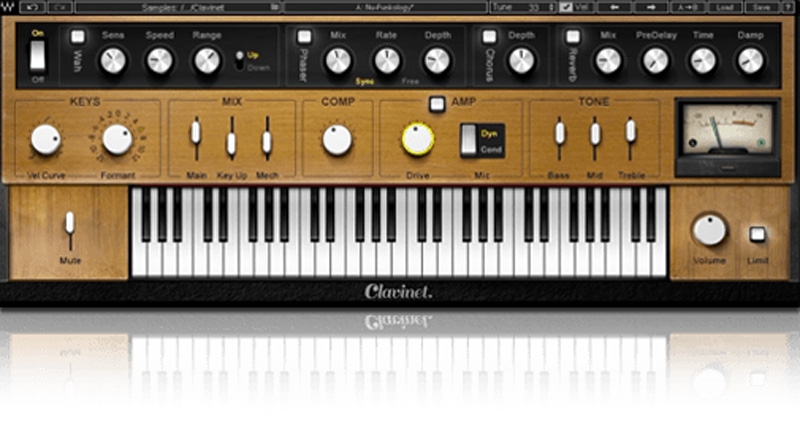 The original Clav has always held a special appeal in funk, fusion, rock and soul music for its unique melodic twang and sonic versatility, from brilliant, vibrant, nitty and gritty to soft, rich, mellow tones.

For this instrument, we meticulously sampled every texture, articulation and hammer tip string-striking mechanic of the authentic D6 Clavinet in both the muted and unmuted modes, recreating all the dynamic control, feel and expression of the original funkified icon.

Using only a few controls, you can achieve an array of deep sonic textures, capturing the distinctive timbre of the Clavi's unique single-coil pickups. Choose from the selection of factory presets, featuring patches modeled after Stevie Wonder's "Superstition," Billy Preston's "Outta Space" and other classic songs; or shape your own tones using the built-in auto-wah, amp overdrive and other effects.

Accurately sampled from the original D6 model Clavinet
Built-in FX section including advanced auto-wah, phaser, chorus, reverb
Full velocity response mix control with key up and mechanics features
Customizable EQ section for further tone shaping
Mute slider control for decayed staccato or mellow sustain
Amp overdrive control with tube condenser and dynamic microphone selectors
Global tune control; MIDI-assignable
32-bit & 64-bit
NKS-ready for NI Komplete Kontrol and Maschine
Can be used as a plugin or as a standalone instrument
Powered by the Waves Sampler Engine (WSE)
Clavinet (V9) - System Requirements
CPU
Intel Core i5 / i7 / Xeon

Memory
8 GB RAM
8 GB free disk space on the system drive

Operating System
10.10.5 - 10.12.5

Screen Resolution
Minimum: 1024x768
Recommended: 1280x1024 / 1600x1024
USB displays are not supported as the primary display.

Support for Visually Impaired Users
Mac OS Sierra 10.12.4
VoiceOver Utility enabled
Pro Tools 12.7
Logic 10.3.1
Please note: Preset management via the WaveSystem Toolbar is currently not supported (will be added soon).
Windows
CPU
Intel Core i3 / i5 / i7 / Xeon / AMD Quad-Core

Memory
4 GB RAM
8 GB free disk space on the system drive

Operating System
Windows 7 with SP1 64 bit
Windows 8.1 64 bit
Windows 10 64 bit

Screen Resolution
Minimum: 1024x768
Recommended: 1280x1024 / 1600x1024
You may also be interested in: