You're currently on: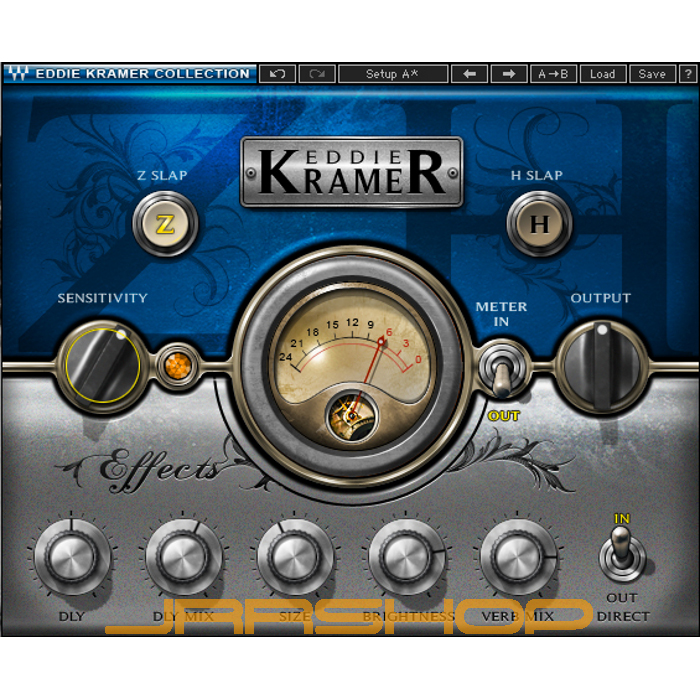 Eddie Kramer on the Effects Channel: "For the Effects Channel plugin, I set out to recreate some of the basic elements that I use whenever I'm painting a sonic picture. Over the years, these elements have evolved to suit a variety of sources and styles, from whispering vocals to screaming guitars and beyond.
H-Slapis a shorter delay that emulates tape at 15 inches per second, with some EMT plate reverb at a medium setting.
Z-Slapis a longer delay (7 ½ inches per second) with a bit of feedback and a longer setting on the EMT plate.
Between the two, you'll easily find the ideal setting for almost anything you can throw at it.
Main Features:
Complete all-in-one processing chains
Mono-to-stereo and stereo components
Optimized control ranges
24bit/96kHz resolution
Supports RTAS, Audio Suite, VST, AU
PC and Mac compatible
Controls:
Type toggles between the 2 effect types: H-Slap, Z-Slap.
Sensitivity controls input levels.
Sensitivity LED indicates the presence of proper levels.
Dly controls the time of the slap delay.
Dly Mix controls the mix or direct send to the slap delay.
Size controls the size and time of the reverb effect.
Brightness controls the High Frequency range of the reverb effect.
Verb Mix controls the amount of reverb mixed with the signal.
Output controls the output level.
Meter Switch toggles meter monitoring between input and output modes.
Meter displays input or output.