You're currently on: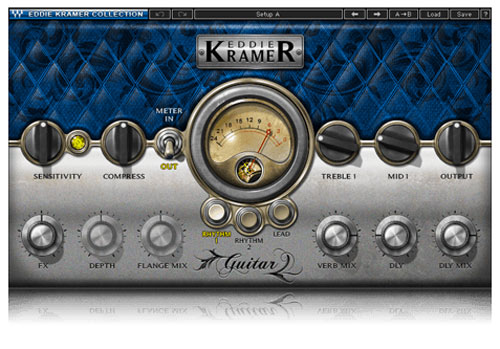 Eddie Kramer on the Guitar Channel: "The Guitar Channel plugin features settings for lead guitars and two types of rhythm guitars.
When it comes to lead guitar, I want it to become a living, breathing organism, creating a palpable sense of excitement within in the mix. By combining the right amounts of EQ, compression, delay, reverb, and a touch of flange, these 5 elements, working together, make it come alive.
For rhythm guitar, I try to get it "in your face" as much as possible, without over-processing the sound with EQ. By adjusting the amount of compression, and not overdoing the amount of space, I make sure that the guitar stays up front, where it belongs."
Features
Complete all-in-one processing chains
Mono-to-stereo and stereo components
Optimized control ranges
24bit/96kHz resolution
Supports RTAS, Audio Suite, VST, AU
PC and Mac compatible
Controls
Guitar Type Type toggles between the 3 guitar types: Rhythm 1, Rhythm 2, Lead
Sensitivity controls input levels.
Sensitivity LED indicates the presence of proper levels.
Compress controls guitar dynamics.
Treble controls high frequency range.
Mid controls midrange frequencies.
Output controls the output level.
FX controls the effects send gain.
Depth controls the flange effect depth.
Flange Mix controls flange effect mix. (Lead only)
Verb Mix controls the relative level of the reverb.
Dly sets the delay time.
Dly Mix controls the amount of audible delay.
Meter Switch toggles meter monitoring between input and output modes.
Meter displays input or output.