You're currently on: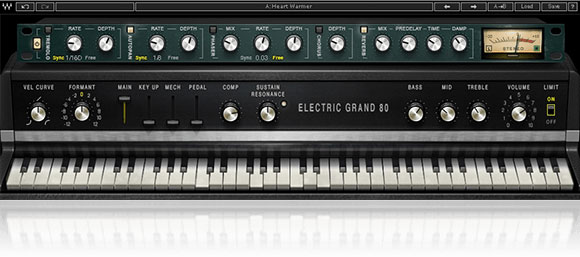 Faithfully sampled from the classic electric grand piano which defined 80s pop, rock and R&B hits by Elton John, Peter Gabriel, Herbie Hancock plus many more, and served electronic music innovators from Vangelis to the present.

Featured on hits by Journey, U2, The Police, George Duke, Phil Collins, Toto, Hall & Oates, Billy Joel and countless others, the original 80-model electric grand continues to be a favorite among modern rock bands like Keane and electronic musicians such as Ulrich Schnauss. "I had one of the original Yamaha CP-80 electric grand pianos for years," says top studio musician Charlie Judge, "and it's great to have that sound once again."

Electric grands are known for their reverberated chords and polished, shiny leads. Since the original piano uses fewer strings per key, it creates a tone that can be more easily mixed into your music compared to traditional acoustic piano.

The Waves version brings to life this electro-acoustic sound, with features from the original such as tone controls and tremolo. Also included is Sustain Resonance, which controls the simulated sympathetic resonance of un-played strings – perfect for adding depth to long chords and solos alike.

The instrument's mixer section lets you blend four separately sampled sounds from the original piano: the main sound, the key up, the internal mechanics and the sustain pedal. With high-quality effects plus a studio-grade compressor and limiter included, you now have everything you need to play Electric Grand 80 in the studio or live on stage.
Sampled from the classic 80-model electric grand piano
Includes tone controls from the original instrument
Mix section for adding different sampled sounds from the original (key up, mechanics, sustain pedal)
Compressor and limiter included
Effects include tremolo, autopan, phaser, chorus, reverb
Can be played as a plugin or a standalone instrument
You may also be interested in: