You're currently on: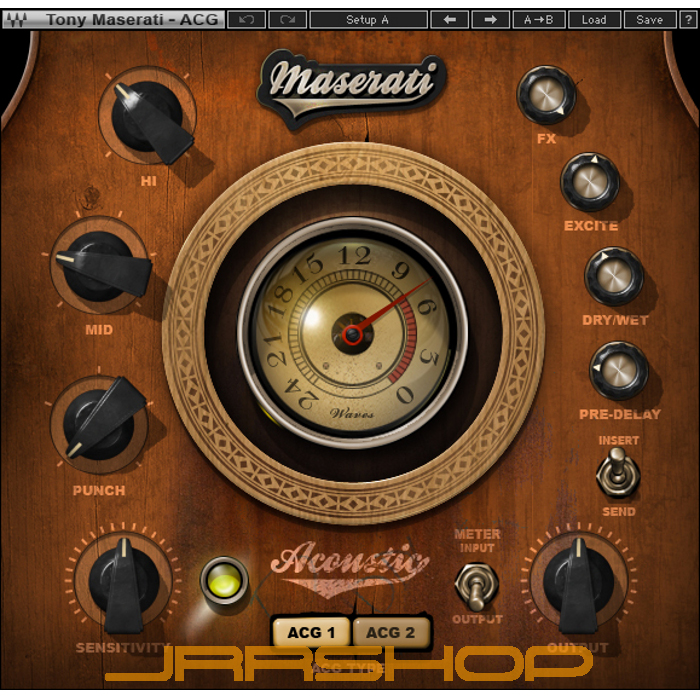 Tony Maserati on the ACG Acoustic Guitar Designer: "The ACG is a comprehensive tool to help gain ultimate control and energy boost from a variety of acoustic guitar types. The 'ACG 1' setting allows you to maximize level and sculpt your top and bottom. 'ACG 2' setting has more built-in compression for bringing out the subtleties in a live performance. Both have appropriate room settings available to be dialed in at varying levels."
Main Features:
Complete all-in-one processing chains
Selectable Insert & Send modesNEW!
Mono-to-stereo and stereo components
Optimized control ranges
24bit/96kHz resolution
Supports RTAS, Audio Suite, VST, AU
PC and Mac compatible
Controls:
ACG Type is used to toggle between the 2 effect types.
Sensitivity controls input levels
Sensitivity LED indicates the presence of proper levels.
Insert/Send Switch toggles between Insert & Send modes.NEW!
Punch controls the "punchiness" of the signal.
Mid offers control over the midrange.
Hi offers control over the high frequency range.
FX controls the amount of signal sent to the effect .
Excite adds dynamic excitement to the effect.
Dry/Wet controls the amount of reverb.
Pre-Delay controls the pre-delay of the effect.
Output controls the output level.
Meter Switch toggles meter monitoring between input and output modes.
Meter displays input or output.