You're currently on: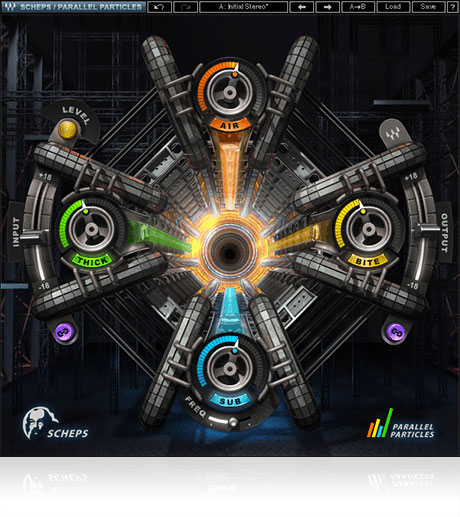 This plugin is about attitude, energy and emotion," Andrew says. "You can find the sound you want, without having to figure out which of the traditional tools will get you there. It is as much an attitude shaper as a tone shaper, so you can focus on how you want your tracks to feel."
Scheps Parallel Particles captures Andrew's masterful know-how and experience in the form of four simple-to-use controls, each of which represents one of Andrew's go-to mixing processes:
Sub is a harmonic generator that creates lows and adds sub frequencies that were never there before. By working more with resonance than EQ, it's a great way to create a presence in the low end without things getting out of control.
Air focuses on those elusive air frequencies and brings them to the forefront. Like Sub, it is a harmonic generator which creates innovative resonances that do not exist in your source. Traditional EQ can sometimes magnify unwanted noise or artifacts; but this control circumvents this issue by synthesizing the top end from existing lower frequency material.
Bite is designed to create sonic vitality and emotion. It controls the front ends of the notes (those that reach your ear first), but it also has a big impact on the release. It can be used on anything to make your sound more aggressive. A singer will sound more energetic, a snare drum will have more attack, a bass guitar will sound more present, and so on.
Thick adds solid body to the signal, evening out the lower mids and midrange, creating a feeling similar to that of a microphone being a little bit closer, or the room ambience being darker.
Separately, these controls work in very different ways to shape the vitality of the sound. In combination, they can really let you dig in and make huge changes in a subtle way.
Created with Grammy®-winning producer/engineer Andrew Scheps
Four controls that capture Andrew's four go-to mixing processes
Achieve profound tone-shaping results quickly and easily
User-friendly interface
Parallel processing
System Requirements
CPU
Intel Core i3 / i5 / i7 / Xeon

Memory
4 GB RAM
4 GB free disk space

Operating System
10.9.5 - 10.11.5
10.8.5 for ProTools 10 only

Screen Resolution
Minimum: 1024x768
Recommended: 1280x1024 / 1600x1024
USB displays are not supported as the primary display.
CPU
Intel Core i3 / i5 / i7 / Xeon

Memory
4 GB RAM
4 GB free disk space

Operating System
Windows 7 with SP1 64 bit
Windows 8.1 64 bit
Windows 10 64 bit

Screen Resolution
Minimum: 1024x768
Recommended: 1280x1024 / 1600x1024
You may also be interested in: