You're currently on: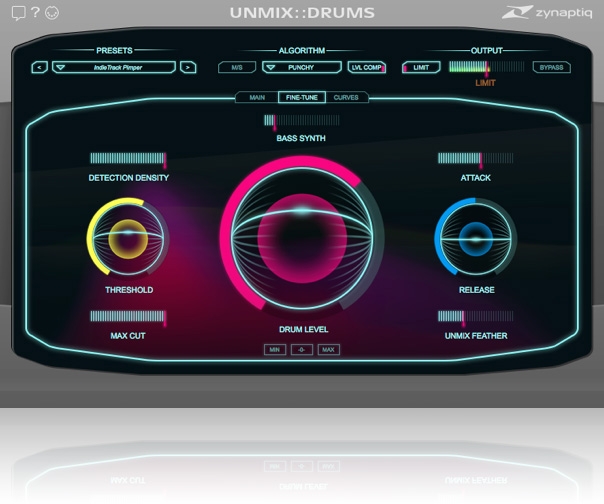 BOOST OR ATTENUATE DRUMS IN MIXED MUSIC
UNMIX::DRUMS is the world's first audio plugin that allows attenuating or boosting drums in mixed music, in real-time. Using advanced source signal separation (a.k.a. de-mixing, unmixing, sound extraction, sound isolation) technology under the hood, UNMIX::DRUMS provides frequency dependent drum level control that ranges from up to +18dB of boost to virtually complete removal* – while always sounding great. Whether used on a full mix or on a drum bus, UNMIX::DRUMS can be used to shape and enhance the impact of your drums in a unique new way. Sporting an intuitive multi-level GUI, frequency dependent control of key parameters, a sample accurate sub-bass (re)synthesizer, our high-precision analyzer display, M/S operation and an output limiter, UNMIX::DRUMS opens up exciting new options for mastering, music production, sample-based music creation, mash-up artists, remixers and DJs.
* Actually achievable amounts depend on input signal specifics.
The UNMIX::DRUMS features at a glance:
Source Separation-Based Control of Drum Level in Mixed Music
SMOOTH and PUNCHY Boost Modes
Sample-Accurate Sub-base (Re)Synthesizer
Frequency Dependent Control of Key Parameters
Intuitive 3-way GUI Design
TURN IT UP (OR DOWN)

UNMIX::DRUMS is your after-the-fact fader for the drums. It takes a mixed music input and allows you to change the level of the drums relative to everything else, in real-time. Attenuate the drums to "headphone bleed" levels, or make them sit squarely in your face – the choice is yours. Adjust DRUM LEVEL and THRESHOLD, done.
---
IMPACT SHAPING

UNMIX::DRUMS doesn't only work with mixed music – you can slap it onto a drum buss, too. Adjusting DRUM LEVEL frequency dependently - using our slick breakpoint editor in the CURVES view - lets you shape the impact and punch of your drums like never before. Without touching a compressor or transient processor, and even if they're inside a full mix. We call this impact equalization. As drum punch connoisseurs, we're proud to say: It's simply awesome.
---
SMOOTH PUNCH, PUNCHY SMOOTHNESS

Speaking of punch: UNMIX::DRUMS offers two boost modes, SMOOTH and PUNCHY. The SMOOTH mode was designed with a dry, organic sound in mind, for natural sounding medium boost situations, as well as pre-processing for drum extraction applications. PUNCHY produces a very snappy, tight sound that can really make the drums jump at you. Both modes allow boosting the drum reverb, too, SMOOTH focusing on early reflections and PUNCHY on long reverb tails.
---
OFF THE RICHTER SCALE
UNMIX::DRUMS features the world's first and only sample accurate sub-bass (re)synthesizer. Adding punchy and clean low frequency energy to your music or drums has never been easier. Simply raise the BASS SYNTH slider to taste – no level instabilities, false triggers or phase cancellation included. Whether subtly extending the frequency range on a jazz master or creating earth shattering club beats of woofer destruction, the onboard BASS SYNTH delivers – with minimal effort.
---
WORKFLOW MONSTER
So what is this plug-in for? In a nut-shell: creating unheard new sounds and smooth, sonically pleasing transitions that are different from the cookie-cutter crossfade approach. Create creature voices by combining speech with other sounds, apply the features of a drum loop to a sustained pad, transition from one ambience or SFX to another with surreal intermediate stages, or or create hybrid rhythms or instruments.
SPECIFICATIONS
Formats
MORPH 2
is available for a variety of formats.
On MacOS X:

Apple AudioUnits (32/64bit)
Avid RTAS
Avid AAX Native including AudioSuite (32/64bit)
Steinberg VST 2.4 (32/64bit)

On Windows:
Avid RTAS
Avid AAX Native including AudioSuite (32/64bit)
Steinberg VST 2.4 (32/64bit)
System Requirements Mac
Apple Mac computer
OSX 10.6.8 or newer
Intel CPU with at least 2 Cores
Apple AU (AudioUnits), Steinberg VST 2.4 or Avid RTAS/AAX compatible Host software
For AAX Native 32-bit, the minimum required Pro Tools version is 10.3.6
Internet Connection for Software Activation (though not necessarily on the computer used for audio with iLok 2)


System Requirements Windows
Windows Vista or newer (XP SP3 may work but is untested in-house)
CPU with at least 2 Cores
Steinberg VST 2.4 (32/64-bit) or Avid RTAS/AAX compatible Host software
For AAX Native 32-bit, the minimum required Pro Tools version is 10.3.6
iLok.com account for machine- or iLok 2 based activation (of full as well as demo versions)
Internet Connection for Software Activation (though not necessarily on the computer used for audio with iLok 2)
You may also be interested in: