You're currently on: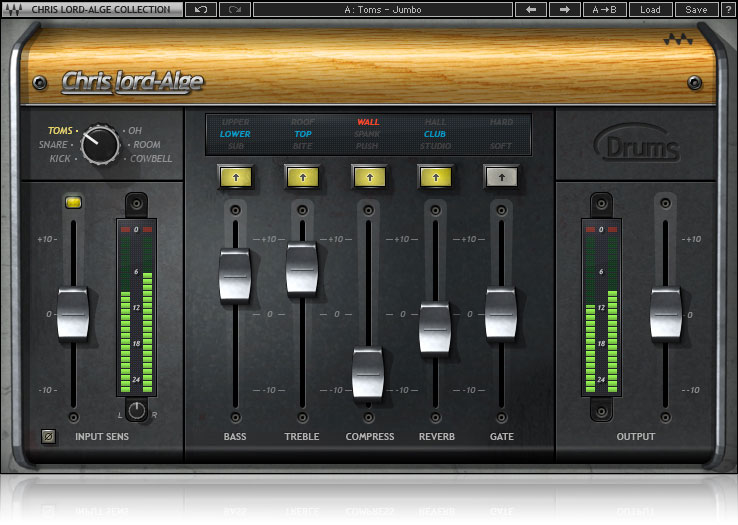 Chris Lord-Alge on CLA Drums: "One of my favorite activities is to work on drums. When creating the CLA Drums plugin, I had one thing in mind: Anyone who uses it can get a great drum sound for any song and any mix and just have fun! There are six different modes: Kick, Snare, Toms, Overheads, Room and, of course, my favorite, Cowbell. There are three color-coded presets for bass EQ, treble EQ, compression, and reverb, plus a noise gate so you can even get rid of leakage. The faders let you control the amount of each effect and, especially important for drums, we've included a phase switch so you can find the best setting for the kit."
Features
Drum Mode toggles between the six drum/mic'ing types: Kick, Snare, Toms, Cowbell (cymbals, hi-hats & bells), Over Heads, Room
Input Sensitivity is used to achieve optimal plugin input level.
Input Meter displays input signal peak level.
Balance adjusts the offset between left and right signals.(Stereo component only)
Sensitivity LED indicates the presence of proper levels.
Phase Switch engages input phase reversal.
Bass controls low frequency gain.
Bass Color toggles between low frequency filters.
Treble controls high frequency gain.
Treble Color toggles between high frequency filters.
Compress controls the dynamics range.
Compress Color toggles different compression characters.
Reverb controls the reverb wet mix.
Reverb Color toggles between reverb environments.
Gate controls the gate threshold.(Not available in Cowbell mode)
Gate Color toggles between gating shapes.(Not available in Cowbell mode)
Delay controls the delay wet mix.(Cowbell mode only)
Delay Color toggles delay times and character.(Cowbell mode only)
Output controls the output level.
Output Meter displays output signal peak level.
Clip LEDs light up when levels exceed 0 dBFS.
You may also be interested in: